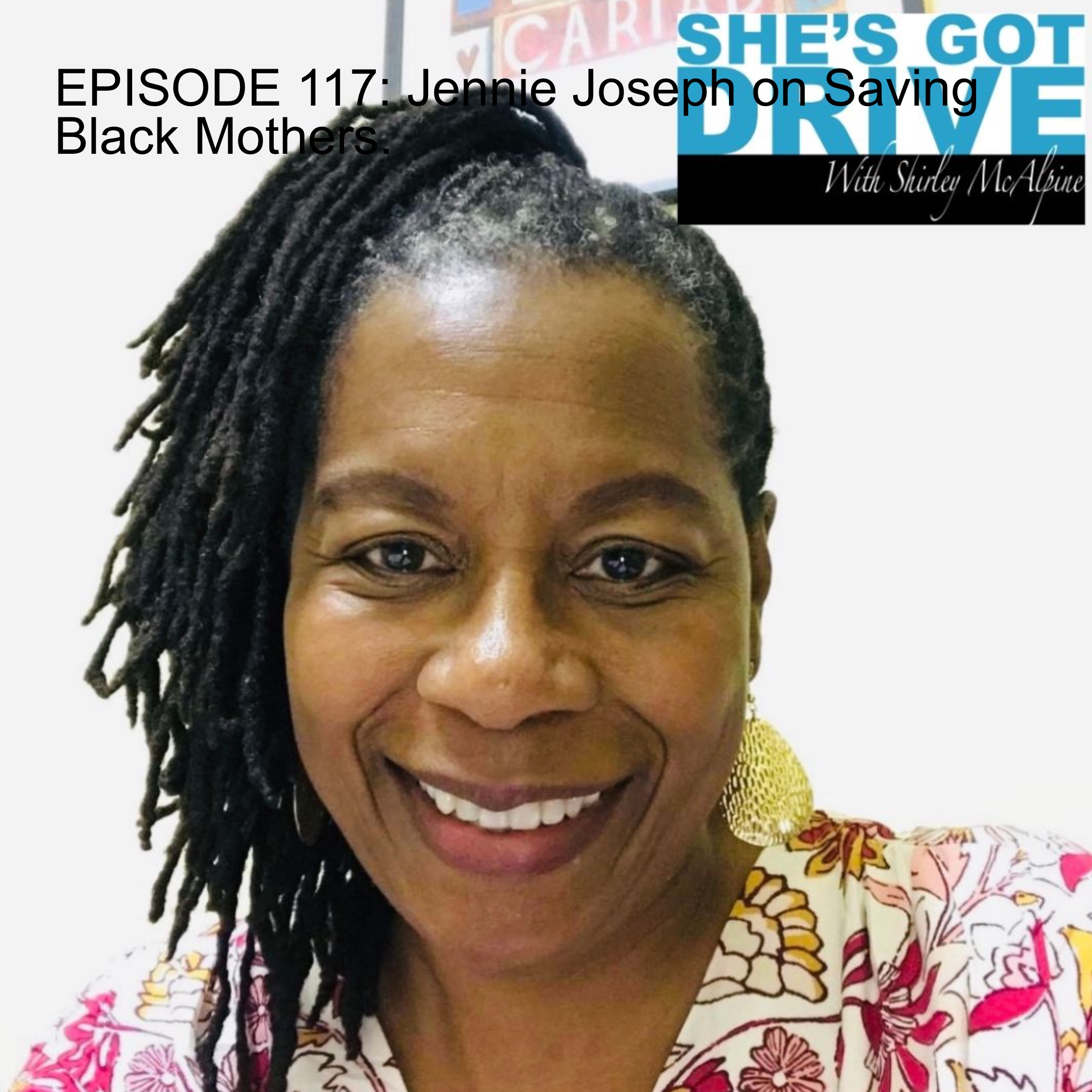 For Black Mothers and Mothers of Black and Brown babies/children. This week as we acknowledge Black Women's Health week I am reposting Jennie Joseph. 
Get your cup of tea , or go for a walk and listen to this weeks episode of She's Got Drive. 
Jennie Joseph,  CEO of Commonsense Childbirth based in Florida, has worked tirelessly through her The JJ Way™ method  to educate, empowerment and support women to have healthy pregnancies and babies.  
America has the highest maternal mortality rate of any industrialized country in the world. More than two women die every day in the USA from pregnancy-related causes, and 3 to 4 times as many Black women as White are at-risk or die during pregnancy. We have read and heard of Serena Williams experience and the challenge that Beyonce has - the issues for Black women cross socio economic  boundaries - it is real and we all need to know what is happening. Raising awareness about this preventable issue gives a platform to Black women to share their experiences, and educates and empowers communities to push for change.
Jennie is  a national speaker, motivator, and author. She has  been featured in documentaries  about this important issue, has  hosted her own radio talk show and is a regular guest on other shows. I...
In this episode 
Hear her

 

thoughts on what success means to her and her personal journey.
and how her success was more organic , verses

 

being planned,

 

through the challenge of transitioning as a midwife from the UK to the US.
Jennie

 

shares how she could not ignore the calling to work on behalf of underserved women and babies and the terrible maternal health outcomes in the US, that are often unknown and the impact on black women and families.
How her personal painful experience lead her to start her journey as an entrepreneur and lessons learned. 
For more on Jennie Joseph and her work go to https://www.commonsensechildbirth.org or follow Jennie on Instagram @iamjenniejoseph
To ENTER MY  GRATITUDE JOURNAL GIVEAWAY  click here
She's Got Drive Journals: buy it on Amazon here
Including 30 Days of Gratitude -Making Every Day Count 
I hope you continue to enjoy our conversation -  Listen and let me know your favorite moment of our conversation and send it to me @@shirleymcalpine_❤️  
If you loved the show please REVIEW it here on iTunes: http://shirleymcalpine.com/itunes
SHE'S GOT DRIVE is produced by Cassandra Voltolina and music by awesome female band Blonde. Artwork by Natasha Merrifield
Listen on iTunes, Podbean, Stitcher and Google Play and SoundCloud
Connect with me through Social Media
FACEBOOK: Join the She's Got Drive Tribe on Facebook Community Page
INSTAGRAM: :@shirleymcalpine_
To go to the She's Got Drive Facebook page
 WEBSITE: http://shirleymcalpine.com/contactme/ 
Join my She's Got Drive Facebook Group - and share with other women with drive. 
If you loved the show please REVIEW it here on iTunes: http://shirleymcalpine.com/itunes
FREE DOWNLOAD TO SUPPORT YOU:
Download for free self care inventory pdf with the questions so you can reflect on how you can take better care of yourself. Click here  shirleymcalpine.com/selfcare\
SHE'S GOT DRIVE is produced by Cassandra Voltolina and music by awesome female band Blonde. Artwork by Natasha Merrifield
Listen on iTunes, Podbean, Stitcher and Google Play and SoundCloud
Connect with me through Social Media
FACEBOOK: Join the She's Got Drive Tribe on Facebook Private Group
INSTAGRAM: :@shirleymcalpine_
To go to the Shirley McAlpine Facebook page