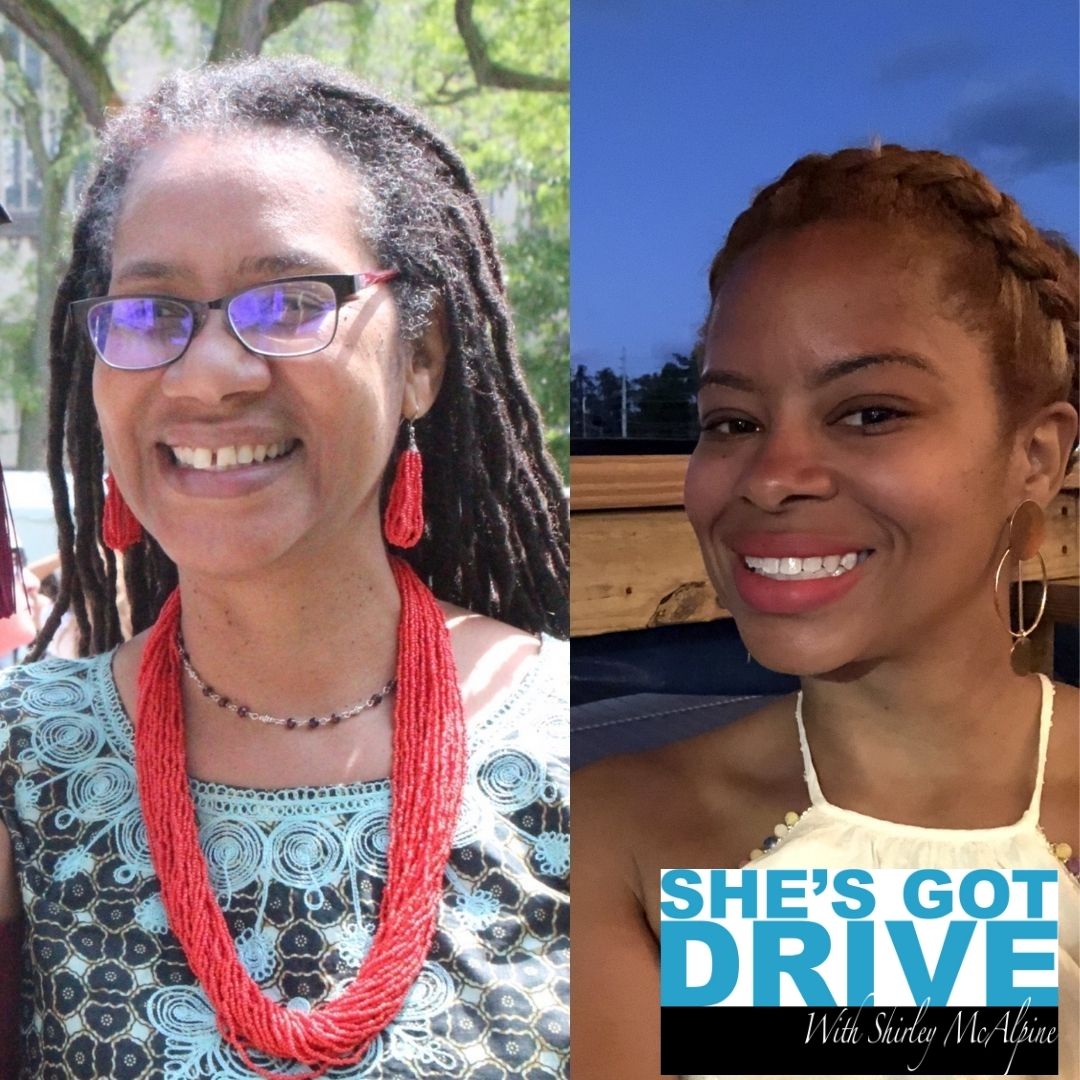 Thank you for listening to She's Got Drive. Today we have the last in out Black Mama series of interviews with midwife Tanya Khemet and Academic Keisha Goode, both President and Vice President of National Association of Certified Professional Midwives. We talk about the racism faced by Black midwives, the decimation of Black midwifery, and the need to address the structural barriers for Black Midwives today. And how Black Midwives is an answer to the Black Maternal Health crisis.  My name is Shirley McAlpine. Welcome to She's Got Drive.
So grab your cup of tea, or drink of choice  and you might want to take a walk as you listen to these two amazing and inspiring women. 
Dr Tanya Khemet Taiwo  considers herself blessed to be the mother of three beautiful girls who were all born into the hands of midwives.  After serving as clinic administrator and staff midwife of The Birthing Project Clinic for eight years, she became one of the founding mothers of Birth and Family Health Center, women's health clinics housed in community health centers located in medically underserved areas of Sacramento.  She currently works in a Federally Qualified Health Center, continuing to care for low-income families in a multi-disciplinary setting. She comes from a family tradition of midwives.  She joined the NACPM Board of Directors in the fall of 2012, and has been President for 4 years. Dr. Khemet Taiwo is an assistant professor of midwifery at Bastyr University, and a research Fellow at The
Birth Place Lab at the University of British Columbia. At the Birth Place Lab she's collaborating on the Giving Voice to Mothers Study, a research project that examines how race, ethnicity and birthplace affect maternity care in the United States. Her dissertation research in epidemiology examined how prenatal socioeconomic and psychological stress impacted child neurodevelopment, and how these stressors are amplified by environmental exposures.
Dr Keisha Goode  joined the Board as the first appointed Public Member. She is currently a Visiting Assistant Professor of Sociology at The State University of New York College. Her primary research area is Medical Sociology with specific attention to the medicalization of childbirth and the historical and contemporary complexities of Black midwifery in the United States. She is completing a book proposal for the publication of her dissertation research, Birthing, Blackness and The Body: Black Midwives and Experiential Continuities of Institutional Racism.
Find Tanya: https://www.facebook.com/tanya.khemet
Find Keisha: https://twitter.com/keishagoode8?lang=en
NACPM : https://nacpm.org
NACPM Facebook https://www.facebook.com/NACPM
NACPM Instagram: https://www.instagram.com/nacpmidwives/
She's Got Drive Journals: BUY IN HERE AMAZON HERE
Including 30 Days of Gratitude -Making Every Day Count 
HOW TO SUPPORT THE PODCAST 
If you love She's Got Drive  please REVIEW it here on iTunes: http://shirleymcalpine.com/itunes
This podcast streams free on Apple Podcasts and Spotify.  Please Subscribe and Review . Tell your Sista friends and share online!
DONATE: check out our Patreon account: 
FACEBOOK: Join the She's Got Drive Tribe on Facebook Private Group and share with other women with drive. 
SHE'S GOT DRIVE is produced by Cassandra Voltolina. Artwork by Natasha Merrifield
Listen on iTunes, Podbean, Stitcher and Google Play and SoundCloud
Connect with me through Social Media
INSTAGRAM: :@shirleymcalpine_
WEBSITE: http://shirleymcalpine.com/contactme/